Klaus Falschlunger - Sitarmusic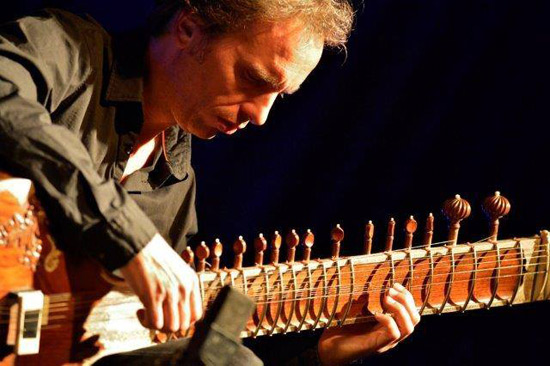 Klaus Falschlunger, born 1969 in Innsbruck, studied from 1991 to 1995 Indian classical music and sitar in New Delhi and Varanasi in Northern India. Since 1995, he has been continuously studying with Daniel Bradley in Vienna/Austria.
Growing up with jazz and rock music, he discovered in his extensive travels to Asia, the Middle East and Europe, more and more the diversity of music. Next to his love for Indian classical music, he composed and experimented with different formations. His creativity and versatility brought him together with many musicians and artists from India, Korea, USA and Europe.
CD-productions with the Tibetan singer Dechen Shak-Dagsay, Korean master drummer Kim Dong Won, Comin & Goin, Manu Delago(hang), Frau Wolle(stories and music), Eurasia, Solo-CD "In A Sitar Way" and many more.
Numerous performances in Europe and South Korea, at festivals, concerts, theater productions, television shows, readings, lectures ....
Salzburger Festspiele, Nehru Centre London, Sitarmusic-Festival Berlin, World Culture Open Korea, PLAI-Festival Timisoara/Romania, Ethno-Jazz-Festival Chisinau/Moldova
Musical Director Winter Festival 2008 "India", Swarovski Crystal Worlds in Wattens / Tirol (A), 1000 (!) Shows with Indian dancers and musicians
Numerous compositions and Arrangments for different bands and ensembles