News
Once in a Blue Moon - Luciano Biondini & Klaus Falschlunger
Top of the World Album - british musicmagazine "Songlines" 8/2021 "...two musicians in their musical prime. Inventive, intriguing and wonderful." - James Roroston
"After 40 minutes the album is over. I wished it would last 40 hours." – Hans Jürgen Schaal in "Fidelty" 3/2021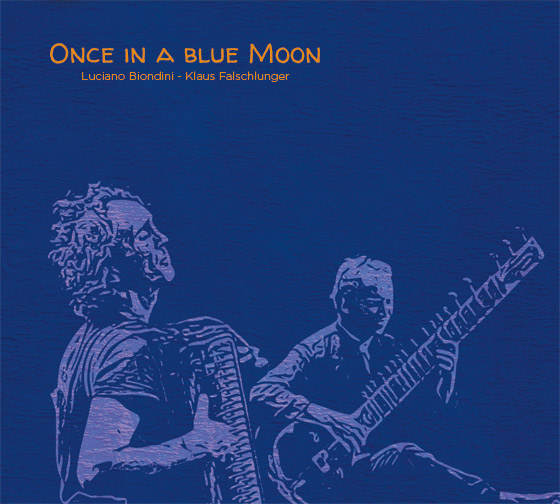 Accordionist Luciano Biondini and sitar player Klaus Falschlunger are among those musicians who are always looking for a meeting point of different musical traditions and styles.
On their first album "Once In A Blue Moon" the two artists are exploring the possibilities to shift the boundaries and find a mix between Indian music, jazz, pop and folk
– music filled with poetry, energy and fine humour.
Duo Line up:
Luciano Biondini – accordion
Klaus Falschlunger - sitar, konnakol
Trio Line up:
Luciano Biondini – accordion
Klaus Falschlunger - sitar, konnakol

Niti Rajan Biswas – tabla & percussion
Once in a Blue Moon - Teaser
New program – Saraswati String Quartett
Circle for Circle
Three strings & a sitar
Line up:
Lydia Kurz - violine & viola
Irina Zehm - violoncello
Clemens Rofner - kontrabass
Klaus Falschlunger - sitar
New program - Zoltan Lantos & Klaus Falschlunger – Mountains and Plains
Noah´s First Breath - live
The multi-award-winning Hungarian violinist Zoltan Lantos and Klaus Falschlunger, one of the most distinguished European sitar players, hold an extensive dialogue with their instruments. With their new program "Mountains and Plains" they explore Western and Eastern musical traditions. They make connections between Indian and Jazz music, folk and pop and convince with a fascinating mixture of exotic and familiar sounds!
Do you know the way?
new song & video in the Austrian Alps ...
L.Biondini & K.Falschlunger
"Once In A Blue Moon"
"Incredible World"