News
Once in a Blue Moon - Luciano Biondini & Klaus Falschlunger
Top of the World Album - british musicmagazine "Songlines" 8/2021 "...two musicians in their musical prime. Inventive, intriguing and wonderful." - James Roroston
"Nach 40 Minuten ist das Album zu Ende. Man wünscht es würde 40 Stunden dauern." – Hans Jürgen Schaal in "Fidelty" 3/2021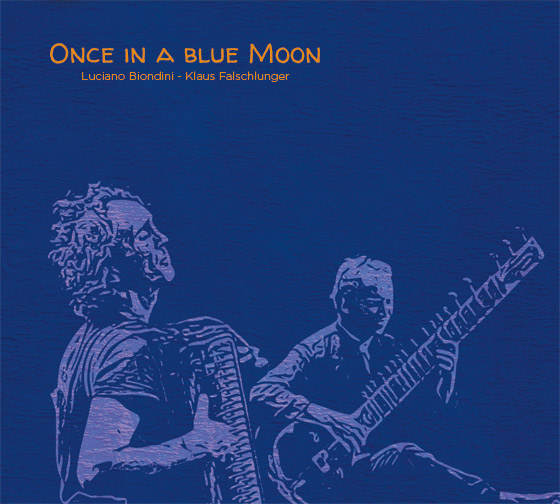 Accordionist Luciano Biondini and sitar player Klaus Falschlunger are among those musicians who are always looking for a meeting point of different musical traditions and styles.
On their first album "Once In A Blue Moon" the two artists are exploring the possibilities to shift the boundaries and find a mix between Indian music, jazz, pop and folk
– music filled with poetry, energy and fine humour.
Duo Line up:
Luciano Biondini – accordion
Klaus Falschlunger - sitar, konnakol
Trio Line up:
Luciano Biondini – accordion
Klaus Falschlunger - sitar, konnakol

Niti Rajan Biswas – tabla & percussion
Once in a Blue Moon - Teaser
Neues Programm - Zoltan Lantos & Klaus Falschlunger – Mountains and Plains
Noah´s First Breath - live
Der vielfach preisgekrönte ungarische Violinist Zoltan Lantos und Klaus Falschlunger, einer der profiliertesten europäischen Sitarspieler, führen ihre Instrumente in ausführlichen Dialog. Mit ihrem neuen Programm "Mountains & Plains" erkunden sie gemeinsam die westlichen und östlichen Musiktraditionen. Sie schlagen Brücken zwischen indischer Musik und Jazz, Folk und Pop und überzeugen mit einer faszinierenden Mischung aus exotischen und wohlbekannten Klängen!
Do you know the way?
new song & video in the Austrian Alps ...
L.Biondini & K.Falschlunger
"Once In A Blue Moon"
"Incredible World"
Indian Air - Rare Moments - Behind the Scenes
"Indian Air" is based in Austria/Europe mixing Indian Music with Jazz and elements of Rock/Pop.
Line up:
Klaus Falschlunger (sitar)
Tobias Steinberger (framedrums/percussion)
Clemens Rofner (doublebass,bassukulele)
Video by Max Raggl www.mugs.at, Sound by Christian Larese
Neue CD "Rare Moments" - hineinhören